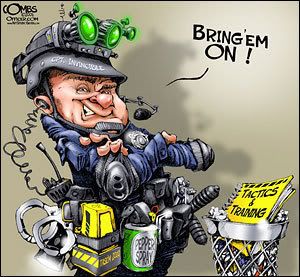 I catch a lot of flak from the boys about what I call my super HP belt. They say I'm a cross between Batman and a fat Inspector Gadget. Personally I believe I'm more of a Macgyver type of guy, possibly even better looking (I don't know why my wife always laughs hysterically when I say that). She just shakes her head and goes about her duties knowing it's futile to even try and talk some sense into me.
The problem is I love gadgets. Actually I love efficiency and being prepared. That is how the "Belt" has developed over the years.
 I wear a two inch wide black leather belt. I thought a white one would look better, but my wife refused to be seen with me and told me that my "Bee Gees" record collection was all she was going to tolerate from the seventies.
Here is my basic combat load I strap on before entering the cottage along with a brief explanation;
1. Retractable key ring. (I lost my keys HOURLY before busting old school custodial style).
2. Blackberry Cell phone. (I get all my emails immediately, my wife is always able to beep the walkie talkie and get me back on task and I can read the news/ HP network when I have a few moments in the day- usually alone in the restroom).
3. Chain Wallet. (Not only does it look Uber cool, I NEVER lose my wallet anymore).
4. Zippo Lighter in a leather case. (We burn lots of incense in the house. Anyone that has a house full of boys will understand. I also BBQ a lot and I take the boys camping very often. I also like having the power of fire at my disposal).
5. SOG multi tool pliers. (I really got tired of searching for a screw driver every time I had to tighten a screw. My wife got tired of me using all the butter knives for heavy construction purposes. We both can agree this is one tool that has been very cool. Works for every HP task, from tightening a bolt to ripping out loose baby teeth)
6. Clip on six inch folding knife. (I like to cut open cereal bags very dramatically).
That is the belt.
Now all of that does weigh a few pounds and my complete lack of a butt and bulging pot belly caused me to constantly be pulling my drawers up, so I have the Dickie Suspenders attached. 
Even I have some sense of style. I cover all my tools with a leather vest I wear all the time so I don't look quite so nerdy. I also have a pen protector but that is whole other blog.
All of this may seem over the top, but it simplifies my life and gives the tools I need at my disposal in an instant. And that is worth the price of looking like an idiot. -Launch