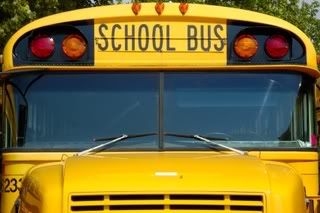 Finally, the day has come. I have yearned and dreamt of this mos glorious day all summer, the first day of school. 
Events leading up to this day have been frantic to say the least. Clothes shopping, school supplies, open house registration and nervous kids. All have taken their toll on the emotional and physical well being of the wife and I. While shopping at Wal-Mart for clothes one kid tried to sneak a few extras into the cart only to find out that when we were checking out he went over his authorized limit. I then made him put all the other stuff back, at which point the young man decided to tell me how his Grandma was going to set me straight. He became further enraged when I started laughing. I may be out of shape, but I think I may still be able to hold my own in a fair one-on-one match with a 75 year old woman with emphysema.
Open house went as usual. The teachers sized us up and wondered what kind of buffoons they would be dealing with this year while we wondered if they actually learned anything in college between the beer bongs and Monster Truck rallies. We toured the class rooms, talked with all the office admin and gave my business card to the school cop for future reference. Pretty typical start to school around here.
To be truthful, most teachers we deal with are great. They are professional, caring and dedicated. But we seem to get one particular teacher every year that works on a different wave length then the rest of us earthlings and we got her again this year. But even that could not take away the anticipation of the first day of school for us.
Yesterday morning I jumped out of bed whistling and walking a little lighter than usual. I woke the boys up and stepped on some plastic model that cut my foot. I didn't even grumble, just kept whistling. We got the boys pushed through morning routine and then we walked to the bus stop. 
I wanted to celebrate the occasion with something like a cigar or champagne, but I thought I might have a lot of explaining to do as my supervisor passed the bus stop on the way into the office. So I went with a cup of coffee and Irish cream loaded with sugar. Time seemed to stop as I kept looking for the bus to round the corner. After 15 minutes I was getting very…. frustrated. The kids, who were very somber, were starting to get very happy and seemed to think they dodged the bullet of the first day of school.
Then I heard it. There is no mistaking the whine of a big Detroit Diesel engine being driven by a very irritated and underpaid county employee. That yellow- that beautiful, bright, tacky yellow bus, gleamed like the halo of an angel as it rounded the corner. I started getting all misty eyed at the thought of being able to catch up on paperwork, work on the blog, clean the house and all of the other wonderful things I could do without having the boys home all day and chasing them around. This was my moment, a moment that I worked and slaved all summer to make it to. Oh how sweet this victory.
I hugged the boys, wished them the best of luck and sent them onto the bus. For a moment I caught the drivers eye. He had the same look I did when he dropped them off for the last time before Summer vacation. I guess I looked like he did that day, all happy and bubbly. As he closed the door I gave him a salute and then lifted my coffee cup in a toast to him as he rolled his eyes and hit the gas. 
Happy back to school!!! -Launch