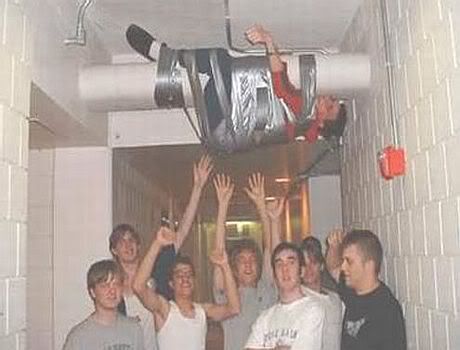 Anger and frustration are expressed in many different ways in a group home. Sometimes it's as simple as a clipboard or chair that levitates across the floor and smashes into the wall or some good old fashioned passive aggressive behavior that may take weeks to discover. Trying to teach forgiveness, grace and mercy to a bunch of kids that are almost always trying to even the score is a daunting task to say the least. Here are some of the finer moments over the years that I have seen the kids pull off. 
1. Using buddies towel as toilet paper. 
2. Greasing up wood stairs with shampoo. 
3. Peeing on peers pillow. 
4. Peeing in peers room to get them in trouble. 
5. Roofing nails in motorcycle tire.
6. Scratching genital area with House Parents toothbrush while taking a picture with his disposable camera. (HP only found out after he developed the film a year later). 
7. Sugar in the gas tank.
8. Shaving House Parents cat. (I think they actually dumped a bottle of Nair on the cat).
9. Putting a bumper sticker on MY truck that said "Sorry girls, I'm Gay".
10. Coffee can filled with urine in top of closet that dumped on my supervisors head during a room search. (It really was funny, I guess you had to be there).
11. Icy hot in peers jock strap.
12. Younger peer paid older peer in house to burn a CD copy of some gangsta rap. Older peer burned a copy of some southern gospel songs instead. (Boy that was a long night). 
13. Hiding fish from Long John Silvers in the top of his buddies closet, over 4th of July weekend. (Try getting that smell out).
14. Pouring the whole bottle of hot sauce into the ketchup bottle. 
15. Greasing all the toilet seats in the house with vaseline.
16. Super gluing the cottages plastic mailbox shut.
17. Advertising the House Dads cell phone number on craigslist as a gay, lonely college gymnast. (The house dad went clinically insane).
18. Dumping talcum powder in the defrost vents in the house van. 
19. Super-gluing math book shut.
20. Duct taped to the bed.
One things certain, there is never a dull moment….-Launch