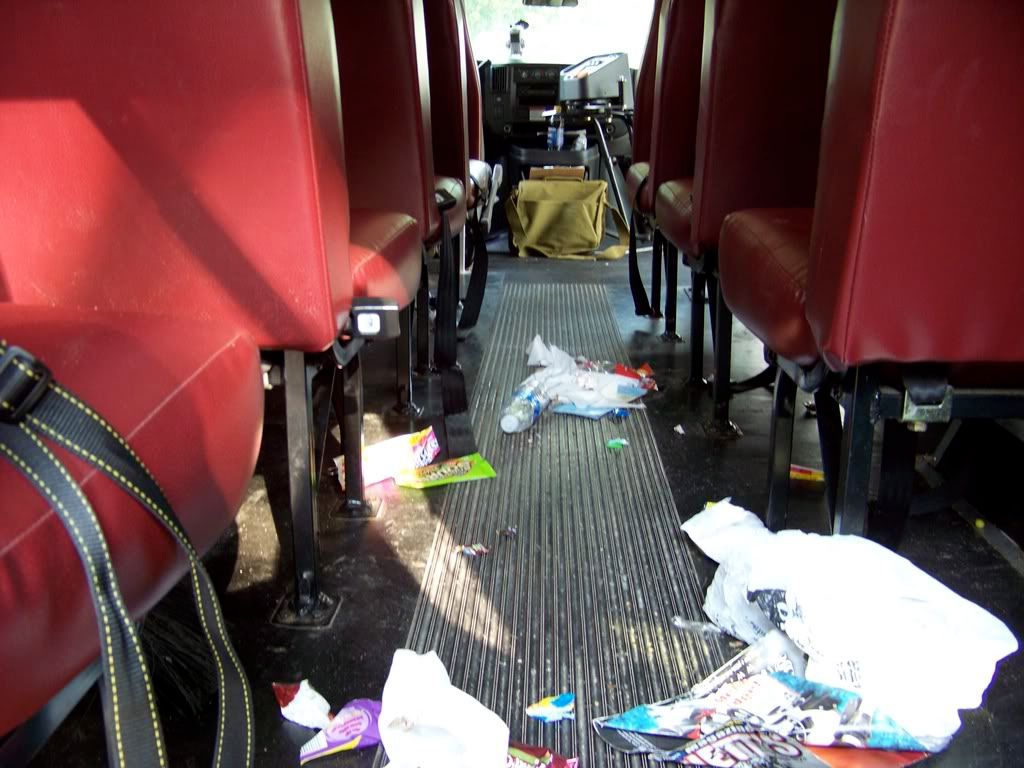 The day after a trip always is always rough in the cottage. Everyone is cleaning and trying to get back into routine. I'm the worst when it comes to attitude after we get back home. All I want to do is relax and zone out in front of the Tv. Fortunatly my wife keeps me moving with the occasional slap in back of the head everytime I even think of sitting down when we are trying to get the house back in line.
One of my duties is to clean the bus. Usually it's a cool job, sweep it out a little, gas it up and turn it back into the motor pool. This time was different. After a week at camp and having 15 people ride 6 hours straight, it was a disaster. It smelled like a sewage treatment plant and looked like a garbage truck.
While washing laundry we found 18 rocks, 3 pencils, 4 sticks, a golf ball, two letters from girls pledging undying love for one of our Romeo's, a dead lizard and some unknown organic clump.
Our twelve year old is mad because we mixed up our six year olds underwear with his. The six year old wears only Superman Undies while our twelve year old opts for a more mature Sponge Bob Square Pants. I don't know how we could have made such a mistake.
There are no socks left. Apparently they are hanging from trees in Tennessee somewhere, along with their tooth brushes. They have however been diligent at keeping all their Gameboys clean and accounted for, which is all that is really important anyway.
Do you know the best part? We head out to Georgia next week for three days of hanging at a sponsors house and we get to start all over again!!!