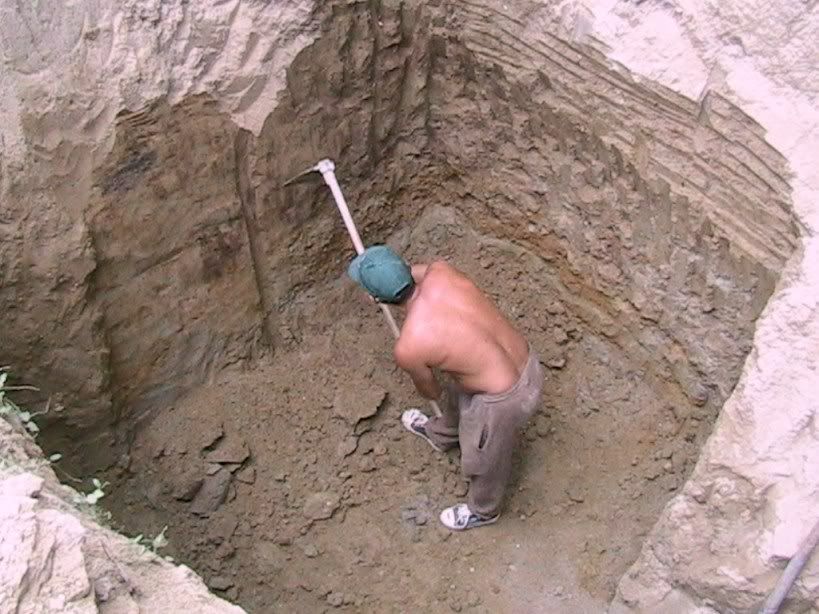 What kid doesn't like digging in dirt? When I was a young bald faced boy, I enjoyed digging a hole or two. We would play war in the woods near our house and scrape out foxholes and lob rocks and dirt clumps at each other, until someone would get smacked in the head with a small boulder and run home crying. Good wholesome fun.
The fun and fascination of playing in dirt ended when I enlisted in the Army. The Army, I soon discovered, had a way of taking the fun out of most things you thought was really cool. After walking twelve miles in unrelenting Georgia sunshine, I would have to dig a hole with my battle buddy. After finishing, we would fill it back in, and walk a few more miles. Then we dug another hole. After I had to dig a bunker in solid, wet clay in Louisiana, I lost all appreciation for playing in dirt.
Fast forward a half decade- Our boys decide they would like to spend the weekend looking for fossils back on the farm. I entertained the idea for half a second and thought they would last ten minutes, dig about a 5 inch deep hole and get bored. I asked them if they wanted to do anything else like fishing or swimming, they all responded with a resilient "Nope". Digging it was.
We took the farm truck back by the lake house, making sure to chase some geese around the field first, and finally we found a spot down by the creek to begin our search for fossils. I sat back in my camp chair and watched the boys take turns with the shovel. After an hour I was really surprised they were still working on the same hole. By this time the hole was about three feet deep and four feet across, just enough for me to start wondering if they were planning on this shallow hole to be my final resting place.
I asked them if they wanted to go get some ice cream, they voted on waiting until later, which gave me hope that they were at least planning on me living long enough to buy them a hot fudge sundae. I sat and marveled at how well five boys were working together for no other reason than to dig a hole. They worked in shifts and told each other to drink water so they wouldn't pass out. No arguing or fighting, just a common goal to find dinosaur bones or China, whichever came first. These are the same boys that wanted to kill each other over Matchbox cars this morning. Go figure.
After two hours and a very deep hole, we all decided that it was time for that ice cream. We filled the hole back in, jumped in the truck and gave the geese hell one more time chasing them around the field. Then off to Sonic. In case your wondering, we didn't find any dinosaur bones- this time.
Days like this make you realize that all of these kids can and will work together when it's a common goal and drive they all share. It's refreshing because so much of what we do with elementary boys is dealing with squabbles between them, all day long. Kinda makes me wonder if they all just need to start their own contracting business. -Launch