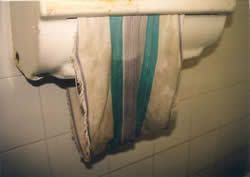 There are moments in my day when I am at a loss as to how to respond to a situation. I often try to put myself in the kids shoes to try and put things in a "Different Light". Sometimes it works, other times I find myself wishing I was a drinking man.
Anyhow, here's how our evening shower routine went down this evening. Our little guy, Jake, was dispatched to the shower to get ready for bed. It had actually been a great day for him and everyone was kicked back and chill for the evening. It was just one of those evenings in the house when it seemed like absolutely everything was flowing smoothly, nothing could go wrong. In fact we had a great Taco dinner this fine evening. (This becomes an important part of the story later on).
After Jake got out and was dressed for bed it was time for Tony to hit the showers. Things were still flowing great and the evening was just about over….
Suddenly, a scream straight out of a Hitchcock movie came out of the bathroom. I ran in the boys bathroom and was able to calm Tony down just long enough to figure out what he was screaming about.
It seems as though Jake had used the restroom before jumping in the shower. Unfortunately, Jake ran out of toilet paper and decided to use his buddies shower towel to wipe himself clean. Being the thoughtful child Jake obviously is, he folded Tony's towel and put it back on the rack, tread-marks neatly folded to the inside.
Tony, in a great rush to catch the ending of the Law and Order episode we were watching, grabs the towel and begins drying off from head to toe. Actually he never got any further than his face and hair before the sad reality of his situation sank in.
After calming Tony down, I went to talk with Jake. Of course he was in his room playing with his matchbox cars, pretending he knew nothing about nothing. When I asked Jake why he used Tony's towel, he responded with "I wasn't going to use my towel, that's nasty". I was laughing so hard I thought I was going to need a towel.
Jake will probably be in a witness protection program by tomorrow morning. -Launch