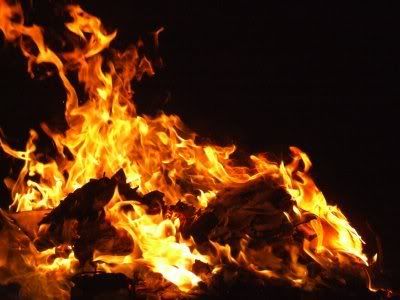 The Tramps – Disco Inferno imported by rvw1919
One of the Family Teachers here had a great idea to get all of campus together and have a bonfire at the Lake House on campus. Being that I love fires, especially big ones, I spent most of Friday with the boys gathering wood from all over the farm.
The back forty of the farm is inhabited by a large number of bovine- Holsteins to be more exact. As we gathered firewood we crossed paths with a cow or two. Every time a cow came within 300 yards of us, Dexter and Rodney would scream and do all kinds of flying kicks and combination punches. If the cow was not intimadated enough to walk the other direction, the boys would throw gravel towards the cow in a desperate show of force. Farm boys they ain't.
Though they were terrified of our pet cows, the boys thought the geese would be friendly enough to pet. You have'nt lived until you see a kid try to pet a goose, especially one that is sitting on a nest. After I gave Rodney a half-hearted warning, he skipped to the other side of the lake expecting to hang with Mother Goose. That fairytale quickly ended after the goose took off after Rodney beating the daylights out of him with it's wings and beak. I felt kinda bad for him, but he needs something new to talk about in therapy anyway.
Another lesson for the boys- Cow poo exists everywhere on a farm. When you least expect it, your in it. I made what I thought was a great object lesson out of how walking in a field covered in manure is kinda like life. It was totally lost on them.
Back to the poo- It covers everything. The boys were picking up sticks and branches covered in it, which in turn covered them. I swear Travis looked for cow patties to step in. Fortunately we had the farm truck to bounce around in and gather wood, which saved me from having to explain to my wife why our mini van smelled like cow butt.
The bonfire itself was awesome. Good turnout and I got to talk to a few people I never saw much of on campus. The kids played and ran around the field, roasted hot dogs and I managed to dodge most of the "Flaming Marsh-mellows of Death" All in all it was a great success and a great start for spring. -Launch