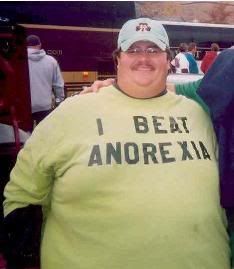 I was really looking forward to the Houseparent Network retreat this past week, partly to socialize a little bit, but mostly to see how Mike was doing with his diet. The last I had seen Mike he had already dropped a lot of weight, this time he looked like a different person. Standing next to him I felt like a fat girl at a beauty pageant. It was down-right disparaging to be standing next to a guy that was as fat as me less than a year ago. 
Not being one to sulk to long, I figured he would party like a rock star during the retreat and suck down enough smores and soda to plump back up by the end of the weekend. No man can live off of tofu, and yogurt for long, at least not a real man. But all my hopes were dashed at dinner that night. 
Old Mike fixed steak. Good bloody, hair on your chest steak. Apparently that's what he eats all the time. No green grass and dandelion shakes, no yo-plait or organic dill-weed. This is the kind of diet I could do if I can convince my wife it's actually not going to kill me in a year of a heart attack. Whatever he is doing, I need to do it. 
I listened to him talk about having more energy to keep up with the kids, how he felt better and just how much less stressful he feels. To say I felt convicted is an understatement. A big part of long term survival in residential childcare is decent health and lets face it, most of us haven't missed a meal in a long time. 
I am determined to drop 70 pounds. Using Mike as my inspiration and convincing my wife I need to eat steak three times a day, I will make it happen (Well, maybe after I get a second job to pay for the steak). One way or the other, this big old gut has got to go. 
I think the real change in any behavior such as eating, drinking, substance abuse and gambling starts when you are just sick and tired of doing the things that are hurting you. I'm at the point that my own gluttony is making me sick, I am more than ready for that change. 
Mike- You are definitely a role model for the rest of us heavy weight lovers living the dream in residential childcare facilities across the nation. Just please don't post any pics of you flexing in a speedo…. -Launch