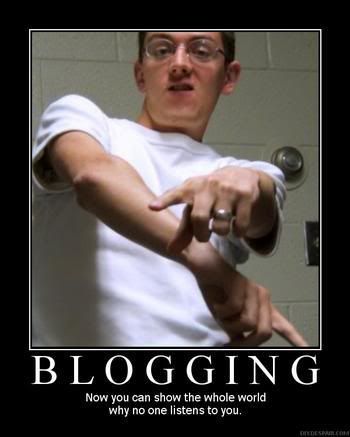 Every once in awhile there are moments that completely stops me in my tracks and say "Dude, what are you thinking?"
Last time this happened one of the kids was trying to explain why my wife's cat was twitching on the kitchen floor and there was the smell of burnt catnip in the air (long story).
This past week I had another one of those moments. I received a phone call from our web master, Mike Hyde. My first thought was I had finally crossed the line in the forum area and there was a disgruntled House Parent out there burning down his group home while screaming my name at the top of his lungs.
Mike assured me things were cool. Actually he said things were going great and he went on to invite me to blog on the site here with my own little corner. The fact that he seemed to be mostly sober while he made this offer also confused me. I'm great at expressing my thoughts into the nether-world of cyberspace, but for someone to actually encourage this kind of behavior gives one pause to reflect on the situation. Mike is first and foremost a House Parent and therefore overworked and quite possibly due for a psychotic break (I had mine last week). Or he may be bored and just curious what deviltry I will conjur up if given a little freedom.
Whatever the cause, I will take the opportunity to throw down while I have the chance. Depending on how long of a roll I can hustle on someone else's site (whilst they pay the bills) I will address many of the issues that all of us as House Parents (and potential House Parents) face on a day to day basis.
One area that is huge and often overlooked is House Parent and administration relationships. I will take you on a tour of my own warped reality of team concept and working as a unit to better our own lives and provide better care for the children we are entrusted with.
Behaviors of kids and staff, stress reduction, why I continue to get fatter, Social Workers, statistics', child welfare issues and many other topics will be put on the table.
I will be trying to convince our gracious web master of allowing me to get out and about and do some facility reviews of those that list with the network while he is still in the mood to let me run amuck. To actually have a positive, first hand account of a facility will be a boost for anyone using the board to help find the right place at the right time.
You will hear me continue my rant from the forum on the importance of using this network and developing your own network further. From developing a professional approach to the entire foster care system to building contacts with facilities and peers.
Actually, I will blog about anything I think is of relevance to our field. The Houseparent Network has become the rallying point of child care providers from across the country. It really has blossomed into being a "One Stop Shop" for resources and support. I have personally talked with facility's that were having difficulty finding qualified child care providers in their local papers, to having dedicated professional couples that stick around after having advertised on the network.
Our ultimate goal is for the children we serve to live a better life. We all pray that we will not be raising their children and the skills we pass on to them will hopefully make a difference. As long as this network continues on towards that goal I will continue spreading the gospel of the Houseparent Network.
-Launch